MubarakRishte Blog
Created at : 2018-11-07 12:20:01
Author Name: SOBIYA JUVERIYA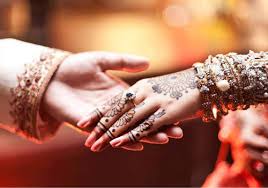 A 52- year man Mazhar Khan walked into a Marriage Bureau with a friend for his Son's Alliance Match. While he was waiting in the hall he meets a 45-year old Lady by name Anees in the same Muslim Marriage Bureau seeking a Pious Muslim Groom for her only Daughter. During their discussion, the Lady conveys him that she's also seeking for a Match. With a simple intention that once the Daughter gets married she might be left alone and so as to be with someone with whom she could share the rest of her Life. Mazhar leaves the Marriage Bureau with Friend, wishing the Lady luck for the Daughter's Alliance and for herself.
On the way home he receives a call from Hospital that his family had met with Road Accident. He rushes to the hospital and by the time he reaches he could find only survival left was his Beloved Wife who had deep injuries and will be bed returned for Lifetime. Mazhar's Wife gets a discharge from the hospital but she couldn't do much with her Married Life, his Wife kept him telling to get Marry as she is keeping unwell and there's no one left in his family except her. Somehow, they continued living the same way for more than a year.
On the Occasion of Eid, His friend visits his place for greeting him on Eid and also to Invite Mazhar on his Son's wedding. During the Wedding Ceremony, Mazhar meet's the Same Lady Anees, whom he had met in the Marriage Bureau. And then she informs him that her Daughter recently got Married and settled in the Town. Mazhar congratulates her for her Daughter's Wedding and invites the Lady along with her Daughter and Son-In-Law for Lunch.
The day when Anees with her Daughter and Son-in-Law visits for Lunch home, Mazhar's wife gets pleased with the Lady's behavior and insists both Mazhar & Anees, Get Marry. And they Agree to get bound in a Marital Relation and Living Happily altogether.
Life is too simple for people who are of Simple living and understands Islam and its Preaching's. Whatever happens in our Routine Life is for a Purpose, we Lose, Gain, and Learn.
Allah (SWT) is Kind to them always who are kind to People.