MubarakRishte Blog
Created at : 2018-11-01 17:38:20
Author Name: Sobiya Juveriya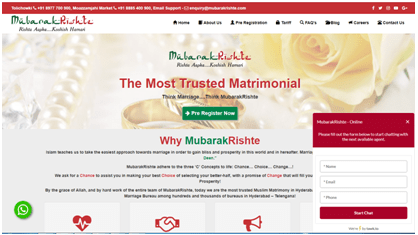 India from Traditional Match Making To Online Match Makers:
In contrast with the western culture, Indian marriages are considered as a union between the families. Till very recently, arranged marriage was the only trend across the Country. Where Families/Relatives of the prospective Groom & Bride use to decide on a suitable match of their Kids, but lately owing western countries influence, joint families have largely disintegrated & nuclear families have attained to more prominence.
The direct effect of breaking up in joint families came on Match Making for Grooms & Brides. The Matchmaking agencies to classified advertisements, many such domains have stood to fill the gap of the traditional Matchmaking system. Muslim Matrimonial Sites became the most popular and powerful alternative today helping individuals and families to find Brides and Grooms.
Muslim Matrimonial Sites have become the serious Platform from where you can find Suitable Brides and Grooms, which comes with all that, is required for a Life partner search:

Enormous Profiles:
In general, as only superficial information use to be provided, but Sunni Muslim Matrimonial Sites helps us create rich content profiles. Prospective Muslim Brides & Grooms will be able to browse through the preferred profiles through Muslim Matrimonial Service provider in Hyderabad.
Option to Choose:
Instead of depending on a traditional way of Match Making, where matchmaking was done from a known network like- Family, Relatives, Friends or Well-wishers. Matrimonial Sites helps to access a wider range of prospective Brides and Grooms.
Filter Options:
Filtering option is the best advantage of Matrimonial websites is they offer ample search and filter options to the users. Especially in a country like India, the majority of the crowd follows the factors like – Caste, Religion, Horoscope and other factors. Muslim Marriage Bureaus these days offers user-friendly and advanced search options to help members to find desired Life Partners.
No Interference of Third Party:
EarlierMatch making was done there use to be the involvement of a family person, friend or someone who can easily create misunderstanding between both parties. Here in Matrimonial Sites Men and Women exchange information, also can maintain direct contact with each other even without the involvement/role of Matrimonial Company.
Sunni Muslim Matrimonial Sites have come forth as a great platform to find a righteous partner, for today's generation.